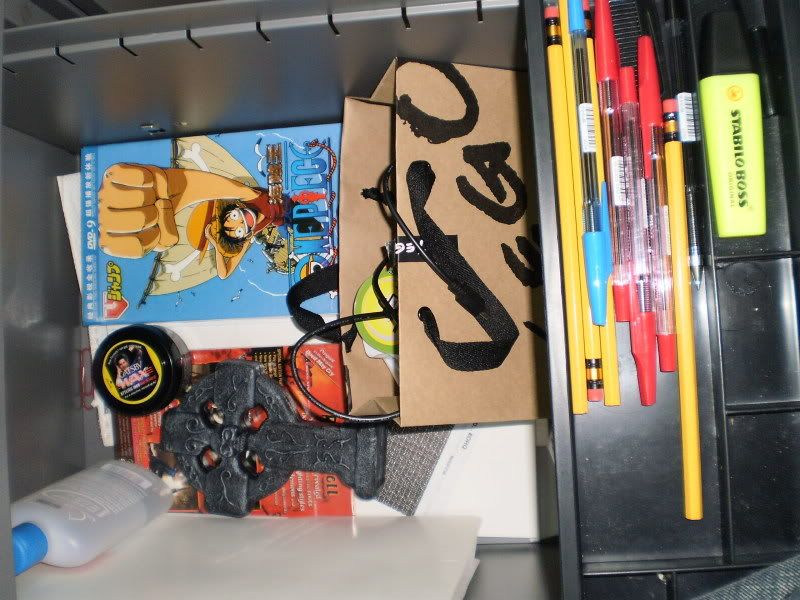 Heto ang laman ng aking Pedestal: Ayan may Alchohol para syempre malinis area ko. Hairstyle Wax na Gatsby para mag mukang neat tingnan. haha Ayun! may CD ng Devil May Cry 3 yeah ! Meron din Full episodes ng One Piece from Episode 1 hanggang sa Sky Island Saga. Pencils, Pens, Marker... may Hidden payslip pa... at Diego Paper Bag!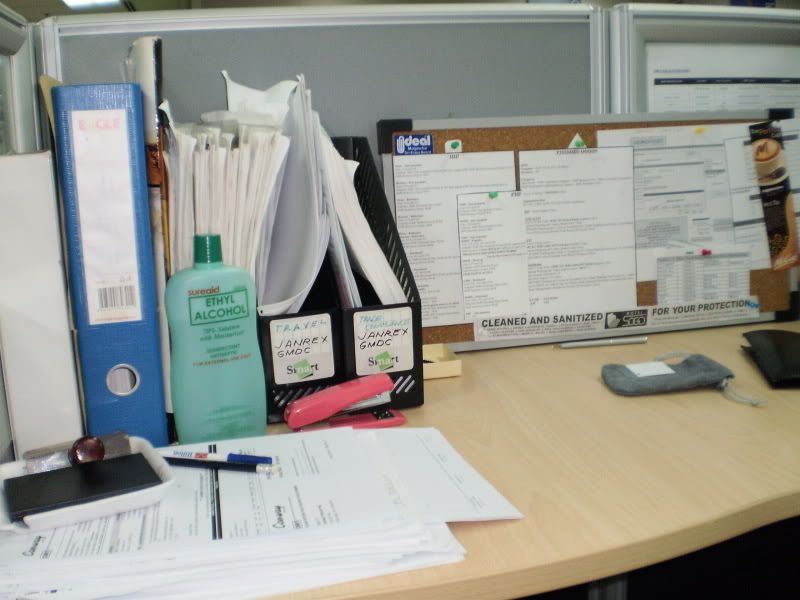 Eto naman ang Left part ng Desk ko, Puro pangtatak, Stapler, Pens at MORE PAPERS! Meron din Alcohol, pero wag ka! Amoy Emperador Brandy yan ! wahahaha. Nakalatay pa Digicam ko..at Wallet.. Bulletin Board ko for Scheds and Reports... uy! may SOGO Banner sa baba ! CLEAN AND SANITIZED FOR YOU PROTECTION! yeah malinis talaga work place ko!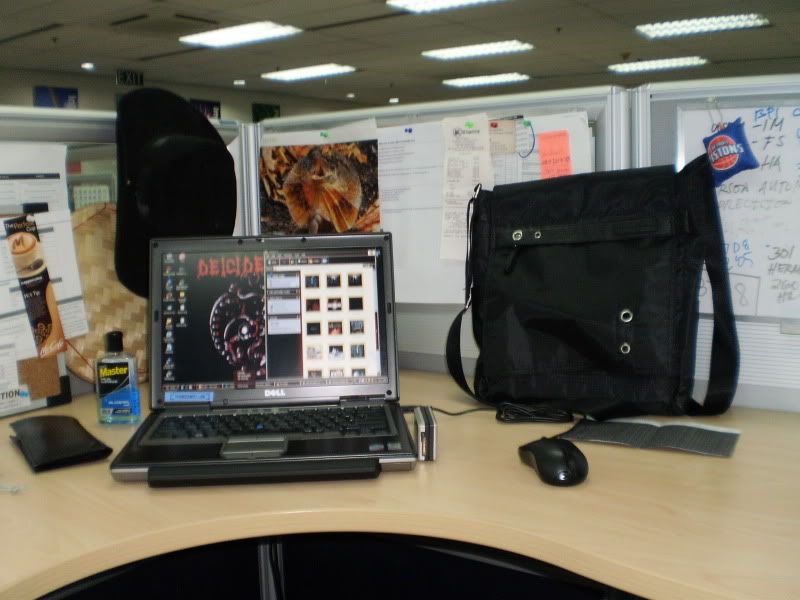 Eto na ako right area ng desk ko. My Cowboy Hat.. yey! Cowboy Hat! Including my company Lap top.. with wallpaper pa ng favorite Deathmetal Band ko, Deicide. katabi nun ang ESKINOL MASTER! Sikreto ng mga gwapo! Black leather wallet, maraming laman yan. Puro I.D.! wahahah. Celphone ko na Nokia 6170... 3 years na kami nyan ang going strong. May Wallpaper pa ako sa likod ng Frilled Lizard, para hindi ko makita ang mga pangit na people sa likod. Pistons Keychain 2nd favorite Basketball Team, wala na kase Dallas Mavericks naubusan daw. MORE PAPERS!!!! My new bag..i forgot the brand. pero maganda sha at suitable for everyday adventure. LOL. And.................. my Payslip.
That's all for now! Stay Cool. XD